How to Become a Transporter at CarryGo
June 1, 2022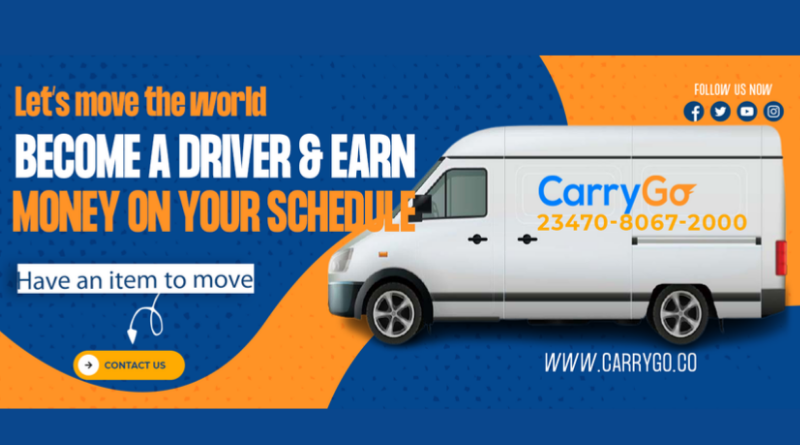 This article on how to become a transporter at CarryGo is for you if you enjoy spending long hours riding down highways and back roads.
As a CarryGo transporter, you can make money moving items from one location to another easier.
Understanding the requirements for becoming CarryGo transporter can help you start your journey toward this career.
In this article, we will explain how to become an independent transporter and how companies can do business with CarryGo transporter company in Nigeria, provide steps to becoming one, discuss skills needed to be a CarryGo transporter, how you will earn, and what you will earn as a transporter.
There are two main types of this. The first type involves transporting items from one state to another.
This may entail long-distance driving in company or personal vehicles such as cars, trucks, or vans.
The second type of CarryGo transporter moves items for customers from one location to another within the same state, using company or personal transport bikes, cars, trucks, or vans.
At CarryGo, you are responsible for the safety and timely delivery of the item or items you transport.
Who Are CarryGo Transporters
CarryGo transporters are individuals or businesses who have registered as transporters on the CarryGo platforms.
They are individuals or businesses who operate vehicles (cars, trucks, or vans) to transport goods from one location to another, whether within a state or across the country.
How Does CarryGo Works
We don't charge anything to use our App or website to join the platform. When you place a bid, you will be shown how much you will be paid; the amount you enter is the amount you will receive.
CarryGo is a platform that assists individuals and businesses in gaining new and repeat customers. As a result, you will be able to earn more money.
We assist vehicle owners who have extra space in their vehicles in converting that space into cash.
We assist transporters (individuals or businesses) in gaining more customers.
How to Sign Up as Carrygo Transporter
To become a CarryGo transporter, go to the CarryGo website or download the CarryGo app for Android and iOS from the Google Playstore and Apple Store, respectively, then fill out some information about yourself or your company, create a username and password, and verify your account.
After that, you'll be ready to work in no time.
To do so, go to the CarryGo home page on a PC or the CarryGo app, click on transporter sign up in the upper right corner,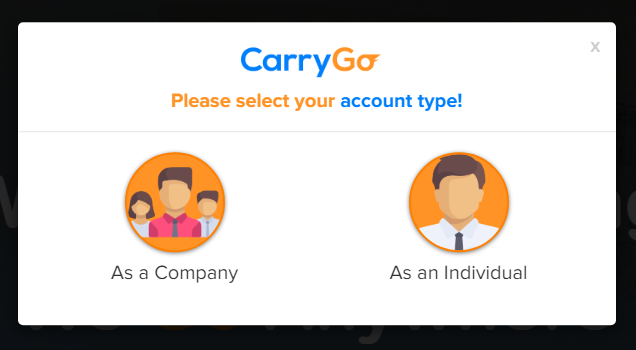 then click on register as an individual or register as a company or register as a company to register as a company.
Individuals only need to provide their email address and password to create a profile.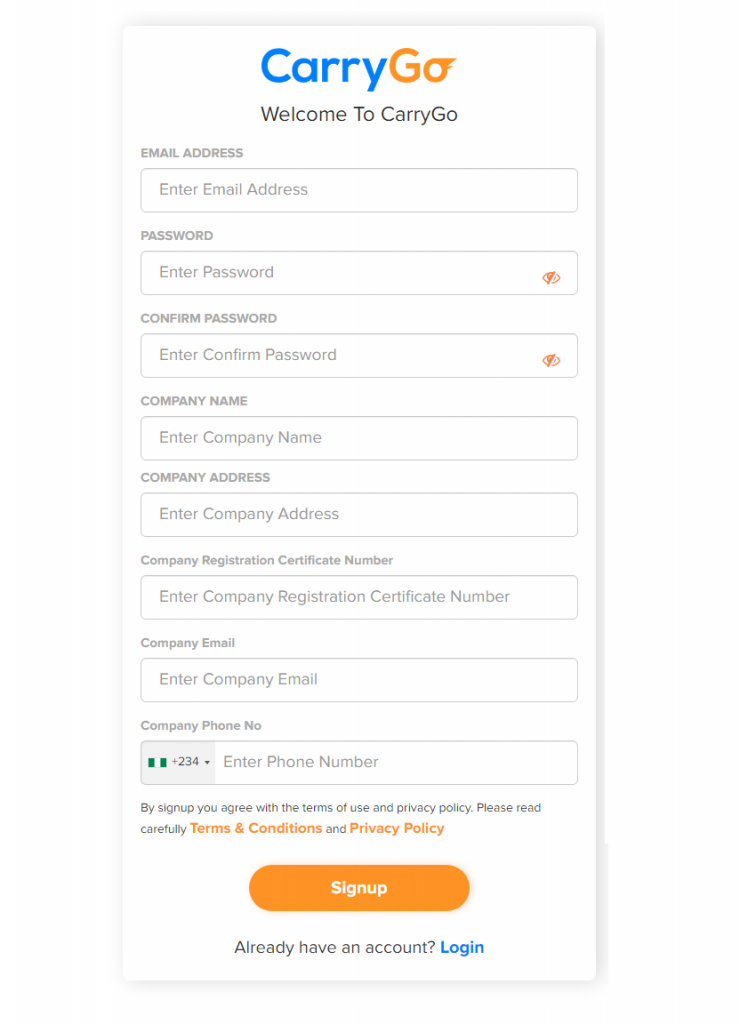 To create a company profile, you must provide the following information: email address, password, company name, company address, company registration certificate number, company email, and company phone number.
Make certain that you provide accurate information.
After signing up, simply click the search deliveries button to see what jobs are available. Look for jobs that match your abilities and that you can complete. Once you find such jobs, simply offer your best price and wait for the customer to accept it.
Once the customer has accepted your price, you can contact them directly to complete the job.
You get paid when job is completed.
How Do You Earn as a CarryGo Transporters
CarryGo, as one of the best transport company in Nigeria, has made it easy for transporters to earn on the platform.
When a customer accepts your quote, they pay the quoted amount to CarryGo. We then hold onto that money until the job is completed.
When the job is completed, both the customer and you must notify CarryGo.
Your payment will be made within 24 hours of both of you receiving notification.
You must notify us when the job is completed in order to be paid on time.
What Does a CarryGo Transporter Make
You control how much you earn from your quotes and how many jobs you can complete as a CarryGo transporter.
With CarryGo, transporter job salary is not an issue, because the more jobs you get the more you earn.
For more information on how to become a CarryGo transporter, please visit our frequently asked questions page or email us at support@carrygo.co , and we will contact you within 48 hours. You can also call us at +234 708 067 2000. Our office is open from 9 a.m. to 6 p.m., Monday through Saturday.
Please leave a comment or share this article on how to become a transporter at CarryGo with your friends and family if you found it useful.