Which Is the Cheapest Delivery Company in Nigeria
May 16, 2022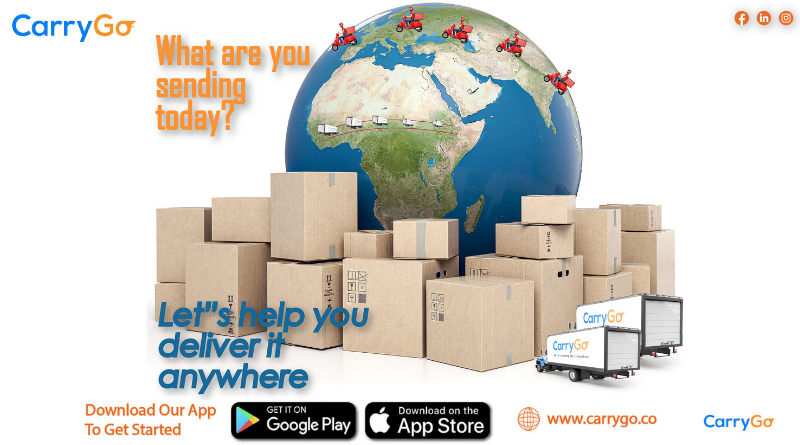 In this blog post, I'll explain why CarryGo is one of the cheapest delivery company in Nigeria.
I'll also go over how CarryGo works as an interstate delivery service in Nigeria, and how you can benefit from our services as an individual, as well as small and large businesses.
CarryGo is a trusted name in the Nigerian logistics and delivery industry, with years of experience in providing logistics and delivery services.
Every day, CarryGo delivery delivers millions of packages and parcels to homes and offices across Nigeria, and we are one of the most cost-effective courier services in the country.
CarryGo delivery service has made it very simple for you to save money by offering low-cost courier services to Nigerians all over the country,which makes CarryGo of the cheapest delivery company in Nigeria, and the cheapest delivery company near me because we operate nation wide.
We are one of the most cost-effective delivery service options available, for both personal and business purposes.
The CarryGo delivery process is outlined below.
HOW TO LIST ITEMS ON CARRYGO
By listing your item or items, you first tell us what needs to be moved. To do so, go to the CarryGo website or download the CarryGo app for Android and Apple operating systems from Google Playstore and Apple app store respectively. To register and post a new job, go to log in and fill out the required information, or go to get free quotes in the top right corner or main menu and fill out the required information.
Below is a sample of the post a job form.
You begin by entering the job title, date and time (which should be the current date and time), pickup location (where you want the item or items picked up), and drop off location (which is the delivery location or delivery address).
After that, you'll see a small description box where you can type some comments.
Then there's the pickup floor level (which is a drop-down menu with a list of floors ranging from ground to 10th floor), and the pickup elevator or lift (is for buildings with elevators or lifts).
There is a dropdown for selecting the property type (which includes residential, commercial, industrial, and other options), as well as a dropdown for selecting the sub property type.
There is an option for buildings with elevators or lifts on the form (which you will find drop off floor level and drop off elevator and lift)
Drop off property type and drop off sub property type are also available.
You also have to upload up to 5 images, then check the box to add optional item dimensions which include the item name, length, width, height, and weight.
Then there's the option to add more items to the form; if you've noticed, the form is more detailed, so we'll need as much information as possible before posting your job.
We try to make it easy for your item or items to be picked up and delivered in the shortest time possible as a pickup and delivery service in Lagos and Nigeria, which is why we made the form more detailed.
Once you've completed the form, click submit to post the job.
Your job will be visible in "search deliveries" on our website.
Below is an example of a job submitted by a customer; you'll notice that it includes all of the information from the customer's post new job form, as well as a map with the location and distance calculated in miles.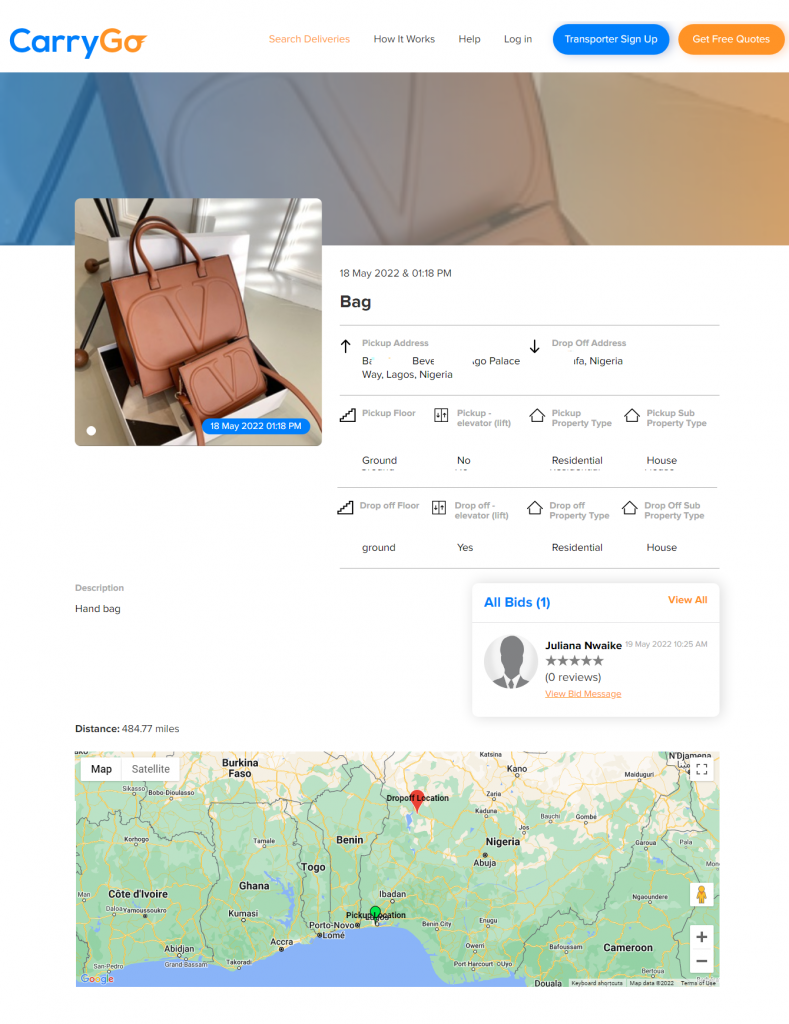 You can also edit or delete your job on CarryGo website of app after listing it.
CHOOSE A TRANSPORT PROVIDER ON CARRYGO
Once you've submitted the form, you can sit back and wait for transportation providers to send you free quotes. Once the providers have seen the job, they will bid on it by placing quotes.
You can look at the quotes and compare them all, giving you the option of choosing the cheapest of all the transport quotes. You can also look at the transport provider's profile and read reviews from other customers.
As the cheapest courier service in Nigeria, we've made it easy for you to select the right tranporter to delivery your items nation wide.
Apart from being one of the cheapest delivery company in Nigeria, which giving you the option of choosing the cheapest of all the transport quotes. CarryGo feedback is also a useful tool for determining trustworthiness because other CarryGo users leave feedback after each transaction.
Depending on their experience, feedback can be positive, negative, or neutral.
You can see a transport provider's feedback rating by going to their profile page and clicking on their name. Not only will you be able to see their feedback score, but you will also be able to see actual user comments about the service they received.
You can now choose a transport provider or accept a quote after reviewing feedback from previous customers.
You can also leave feedback after the transporter marks your job as completed and sends you a notification.
After that, you'll have to confirm it in the app. After you've confirmed it, you'll be able to leave feedback, which will assist other customers in accepting quotes from transporters.
Once you've chosen your bid and are satisfied with your decision, click the blue "Accept" button.
You can now schedule pickup and delivery with the transporter directly.
At this point, I know some of you would like pay on delivery service in Nigeria: at CarryGo full payment is required, once complete, you will receive the transport provider's complete contact information.
If you need to discuss further collection and delivery details, you can now contact them directly.
You can ask questions about your job and discuss it with transport providers using the CarryGo real-time message system. You can also ask transport providers questions during the bidding process.
When a bid is received for your posted job, click "View Bid Message" to communicate with the transporter
When you receive a response, we'll let you know.
Please note that prior to the quote being accepted, direct contact information for transportation providers is not and should not be exchanged. Before accepting a transportation provider's quote, you should only communicate with them via bid message.
You are not obligated to accept any of the quotes.
*Note: If you accepted the incorrect quote but have not yet paid the fee, you can return to your listing and accept the correct quote. To return to the job, simply click the arrow in the top left corner; you can now begin the accept process for the correct quote.
HOW DO I CANCEL MY DELIVERY ON CARRYGO
If you need to cancel your delivery after accepting a quote, you must contact the chosen transport provider, as all arrangements are made directly with the transport provider once you accept a quote, and you must cancel their service.
Please contact CarryGo customer service for more information once you have cancelled with the transportation provider.
IF THE TRANSPORT PROVIDER CANCEL YOUR DELIVERY ON CARRYGO
If your transport provider cancels your delivery, please contact our customer service team as soon as possible.
If your transportation provider cancels, you now have two options:
1) Change the delivery date.
This will allow you to find a new transportation provider and have your goods moved as soon as possible.
2) A payment refund
You will be required to file for a refund after contacting our customer service team. After your request has been investigated, a refund will be issued with an administration fee.
DAMAGED ITEMS
If your item or items were damaged in transit, you could file a claim under the transporter's "goods in transit" policy. You can inquire further about this.
CarryGo recommends that the transportation providers on our site use blankets and straps to protect your belongings during transit.
If you have a complaint, please email support@carrygo.co, and you will be contacted within 48 hours. You can also reach us by phone at +234 708 067 2000. Our office is open Monday through Saturday from 9 a.m. to 6 p.m.
CONCLUSION
When it comes to deciding which courier service to use, speed is just as important as the price of delivery; you must consider how long it takes to deliver an item or items.
You should also consider the delivery company's service area, CarryGo delivers nationwide, which is an important factor to consider when choosing a delivery company.
CarryGo's delivery system makes it quick and efficient for delivering packages door to door at a lower cost; transporters send you bids, and you choose the lowest bidder; and it speeds up the entire process, which is critical when it comes to delivery.
If you found this article useful, please leave a comment or share it with your friends and family.
Remember to register and begin using CarryGo as soon as possible; we will be happy to have you as a customer.
You can also find answers to some of your questions about CarryGo on the Frequently Asked Questions (FAQ) page.
I hope that after reading this article, you understand why CarryGo is considered one of cheapest delivery company in Nigeria.